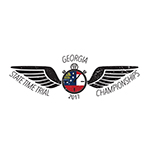 Georgia State Time Trial Championships
May 27, 2017
3278 Gillsville Hwy Gainesville, GA 30507
Event Summary:
2017 Georgia State Time Trial Championships
Saturday, MAY 27th
The Georgia State Time Trials are open to anyone with a USAC license. If you don't have a USAC license, you may purchase a one-day license at online registration.
You need not reside in Georgia; however, only annual license holders, residing in Georgia are eligible to purchase the Georgia State Championship Jersey.
Event Location:
Tadmore Elementary School

3278 Gillsville Hwy

Gainesville, GA 30507

United States
Event Time:
Individual Time Trials begin at 8am
Team Time Trials begin at 12p
Time Trial Start Times will be posted here on Friday before event, May 26
Event Pricing:
Individual Time Trial
Awards:
All Podiums 1st-3rd receive medals
All 1st place residents USAC license holders and residents of Georgia are eligible to purchase custom Georgia State Championship Jersey
Course Map:
Time Trial 22 Mile Course Map  –  Category, Masters & Team Time Trial Map
Juniors 12 miles Course Map – Juniors Time Trial Map
Sponsors: